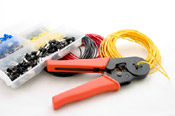 Deploy U.S. has established itself as a leading electrical installation company with a department that focuses on low voltage cabling and technology installs. With decades of experience in the field, and installations from coast to coast, you'll be assured of fast, professional, personalized service at highly competitive rates and quality work that meets or exceeds all specifications. Our portfolio covers all aspects of design and installation, including electrical installs; voice, data, and video networks; as well as fiber optic installation, and wireless networks.
Network infrastructures are a crucial part of any business. That's why, in today's fast-paced world, it's essential that your high-speed voice and data network is not only reliable; but also meets your growing needs of tomorrow. Whether your company is a small business or large enterprise, Deploy US will provide you with solutions you need to stay connected. Of course, we are always happy to answer any questions you may have and explain all of your options.
Our design team will ensure your network is designed and installed to be resilient and trouble free throughout its lifetime.
Our areas of expertise include:

Electrical Installation and Maintenance
Cat 5e, Cat 6 Cabling
Fiber Optic Cabling
Data & Voice Networks
Point of Sales Systems (POS)
Closed Circuit Surveillance Cameras (CCTV)
Telecommunications Installations
VOIP & Converged Networks
WiFi and Local Area Networks (LANs)
Moves, Adds and Changes
Ready to get started?
For more information or a free quotation
on your next project, please contact us.